January 19, 2018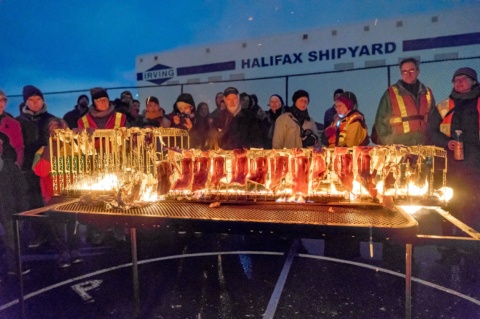 With the successful Centenary Procession walk of December 3, 2017, NiS+TS has completed the Walking the Debris Field project. NiS+TS would like to extend sincerest thanks to all supporters and participants who have made this project possible.
In the drizzling December dusk, braving the blue murk, over one hundred walkers joined together to weave through the district once known as Richmond in marking the centenary of the Halifax Explosion. At the head of the procession participants carried vibrant neon green banners, designed by artist Jessica Winton, commemorating the Explosion. Curious locals, hearing Ian MacMillan's snare drum and Nathan Pilon's plaintive sax improvisations approaching, looked out from windows and housefronts to see a long train of people stretching the length of streets. Along streetcrossings, volunteer safety marshalls made sure everyone made the journey safely.
Embedded in significant sites along the route were vignettes where dramatic performers, singers and storytellers made memories of this tragic event come to life. The procession culminated in Mulgrave Park with the burning of an architectural model by artist/designer and frequent NiS+TS collaborator Angela Henderson, revealing ceramic models of the Imo and Mont Blanc made by artist Juss Heinsalu. Following this, with clothes thoroughly soggy but with spirits kindled from the memorial trek, participants enjoyed steaming hot baked potatoes and warm cider as they watched a slideshow of previous NiS+TS walk events.
Contributing artists for this event included: Juanita Peters (spoken word), Nathan Pilon (saxophone), Ian MacMillan (snare drum), Brian Downey (performing artist), James MacLean, Ailsa Galbraith, Katie Dorian, and Gina Thornhill (Teatime performers), Ben Stone and Koumbie (performers), David Woods (spoken word), and Claire Leger, Colleen MacIsaac, Jennifer Trites, and Kallie White (Xara Choral Theatre Ensemble vocalists who sang at various locations along the Procession route). NiS+TS also extends thanks to Ray Dubé for technical assistance, as well as MGP and the Mulgrave Park Caring and Learning Centre for hosting the finale on their basketball court.
Currently, NiS+TS is at work updating and adding materials to the website. Watch for changes.
NiS+TS's app, Drifts, is available to be downloaded to Apple phones from the App Store. Those wishing to view the content online, or on Android devices can use Drifts at the Into The Debris Field website.