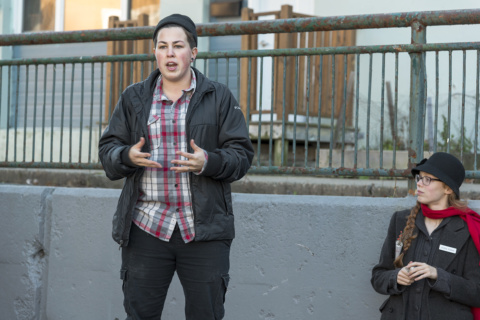 Collaborators Paige Farah and Madeleine Putnam, during Walking the Debris Field: A Natural History, December 6, 2015.
In the past five years, NiS+TS has worked with over 120 individuals and organizations. Thank you to these collaborators, contributors, partners and consultants:
Africville Heritage Trust (Africville Museum), AGNS, Lorraine Albert, Tyler Anderson, Nick Bottomley, Rene Boudreau, James Boxall, Heather Braiden, Michael Burt and Black Book Collective, Evan Cameron and Matt Harrison, David Chapman, Anton Christiansen, David Clark, Common Roots Urban Farm, Marcia Connolly, David Craig, Dalhousie University Faculty of Computing Science, GEM, Dalhousie University Department of Engineering, Dalhousie University Faculty of Architecture and Planning, Halifax City Hoopers, Katie Dorian, Elizabeth Eve, James Forren, Wallace Fraser, Dalhousie Freelab students (2014, 2016, 2017), Seedlings Community Garden, Mel Doiron,  Maura Donovan, Brian Downey, Ray Dubé, Lindsay DuBois, Dr. Peter Duinker, Paige Farah, Julian Franz, Future Roots Social Enterprise, Ailsa Galbraith, Andrew Godsalve, Shauntay Grant, Cecilia Greyson, Renée Gruszecki, Samantha Hall, Leesa Hamilton, Rebecca Hannon, Juss Heinsalu, Angela Henderson, Peter Henry, Tim Hornsby, Bjorn Huntemann, Janice Jackson, Crystal John, Wes Johnson, Alannah Journeay, Katherine Knight, Pat Kipping, Katie Kirkpatrick, Janet Kitz, Koumbie, Raeesa Lalani, Léola LeBlanc, Claire Leger, Roger Lewis, Lions Head Tavern and Grill, Una Lounder, Colleen MacIsaac, Douglas McGlynn, James MacLean, Ian MacMillan, Josephine Macnab, Maritime Conservatory of Performing Arts, Maritime Museum of the Atlantic, Melissa Marr, Roger Marsters, Catherine Martin, Joe Michael, Janet Maybee, MindSea, Caitlin McGuire, Ben Moore, Sally Morgan, Mulgrave Park Caring and Learning Centre, Caring and Learning Centre 2017 Summer Camp Youth, Mulgrave Park residents (Myra, Kelly, Shanice, Alisha, Tia and Dorico), Katie Nakaska, Amanda Noiles, North End Community Circle Garden, Nova Scotia Supreme Court Family Division Courthouse, David Pantalony, Parks Canada Citadel National Historic Site, Madeleine Peet, Juanita Peters, Nathan Pilon, Leah Pritchard, Progress in the Park Community Garden, Madeleine Putnam, Martha Radice, Toban Ralston, Derek Reilly, Evan Rensch, Yalitsa Riden, Brian Riley, Alan Ruffman, Joe Sealy, John Sell, Regan Southcott, Ben Stone, Katie Strongman, Cyrus Sundar-Singh, Ren Thomas, Gina Thornhill, Jennifer Trites, Ruth A. Vandergeest, Veith House, José Luis Lopez Vega, Kallie White, Heather Wilkinson, Jessica Winton, Wonder'neath Art Studios, Women of the Shore, David Woods, Isa Wright, Joel Zemel.